Thanksgiving is coming up this month, and that means two things. Binge-watching all of the Friends Thanksgiving episodes, and eating lots of really tasty food. And if your family is cool enough, maybe you'll do both at the same time.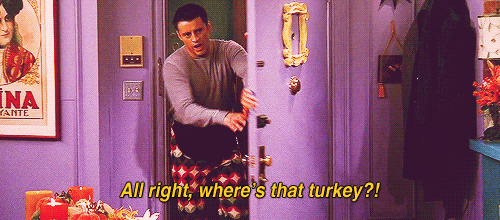 This is the one time of year it's completely acceptable and expected that you go completely overboard and throw nutrition out the window. Because Thanksgiving.
But that doesn't mean you can't get a little creative in the kitchen with your macros! We have this uh-MAZING mashed potatoes recipe that will blow your mind! Not only because it's so delicious, but because it somehow packs in 10 grams of protein per serving. Say what?!
Protein Potatoes
Besides adding in your typical mashed potatoes ingredients, you're going to add in some protein powder. Now, before you start thinking I'm weird and willing to dump some protein powder in anything, there's a new protein out there that's really great for recipes like this. It's IdealLean Multi Purpose Protein. This means there's no flavor. No sweeteners, nothing but whey protein. I added some in my oatmeal this morning and I couldn't tell the difference!
All of the IdealLean Proteins boast zero carbs, zero sugar and zero fat. So if you're counting your macros, this is the protein you'll want. You can learn more about it here.
Let's get down to business. Make this recipe, add whatever you'd like to it, and then devour it shamelessly. If you're feeling really creative, add some cooked turkey bacon and low-fat cheese as toppings. Also, we recommend plain, non-fat Greek yogurt in place of sour cream. It has way more protein!
Seasoned Protein Mashed Potatoes
Serves:

4

Yield:

4 cups

Prep Time: 30m
Instructions
Combine the potatoes and water in a medium sized pot, and place the pot over high heat.
Bring the potatoes and water to a boil and reduce to medium heat. Continue to simmer the potatoes until they are softened.
Once the potatoes are cooked through, strain the water and place the potatoes in a large bowl. Set aside.
Combine the butter, milk, and garlic powder in a small saucepan over medium heat. Heat until warm and quickly whisk in the protein. Continue to whisk until protein is dissolved. Immediately pour the mixture over the warm potatoes and mash by hand or with an electric mixture.
Once the potatoes are well mashed, fold in the Greek yogurt, and season with salt and pepper. Enjoy!
Ingredients
3

large russet potatoes, peeled and diced

water- enough to cover the potatoes

4

tbsp.

butter

1/2

c

skim milk

1/4

tsp.

garlic powder

1

scoop Multi Purpose IdealLean Protein

1/4

c

non-fat, plain Greek yogurt

Salt & pepper to taste