Remember when That's So Raven was alllll the rage?! And now there's some new show? I'm all about that original Disney Channel. (Every good show seems to have a spin-off these days. Full House, Will and Grace, you name it! But I digress.) One of the best lines from the show, was when Raven would get wound up and yell, "oh SNAP!" It was usually because she goofed something up, lied to her parents and got caught, or realized that fast food actually makes you gain weight. To be honest, we had the same reaction.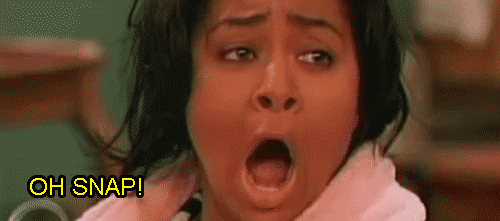 This catchphrase will forever come to mind when I read anything about gingersnap cookies. Typically, most people would associate them with the holidays and perfectly seasoned desserts. But I don't. And I'm not mad about it.
Chai Gingersnap Shake
Speaking of spices, this protein shake is loaded with the good ones! Not only are there real gingersnap cookies in this shake, but there's also some chai tea. Which we all know has some of the best flavors in town. This smoothie requires a little foresight, as you'll have to make the chai tea and have it cool enough to blend with the other ingredients. But I promise it's well worth the preparation.
The main reason I'm even writing about this recipe is for the cookies. SIKE! It's because of that awesome protein count! The IdealLean French Vanilla Protein is awesome because it has no carbs, sugar or fats, which allows for some wiggle room to add fruit, veggies and COOKIES. It's not something I normally add to protein shakes, but you've got to give yourself a little treat now and again, right? And since the protein only has 80 calories, you can squeeze a couple of cookies in without feeling too guilty! #yas
Learn more about the protein shake I used here.
Instructions
Blend all the ingredients together until smooth. Enjoy!
Optional: Top with additional crushed gingersnap cookies and sugar-free Cool Whip.
Ingredients
1/2

c

unsweetened almond milk

1/4

c

chai tea, cooled

1

scoop French Vanilla IdealLean Protein

1

tsp.

molasses

3

gingersnap cookies

1

tsp.

vanilla extract

1/4

tsp.

ground cinnamon

Dash of ginger, nutmeg

Ice